Count Ted Draftula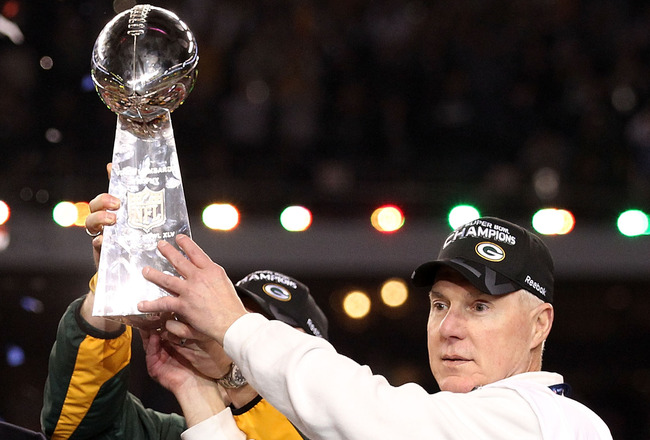 A lot has been made recently of the Packers' "splash" in free agency and how it's unusual for a Thompson team that has signed 3 UFAs since 2007, and merely 10 total since he;' taken over as GM in 2005, to be so "active" this offseason. So let's do some analysis and follow that up with some Ted quotes for reassurance.
Why Jeff Saturday? Easy, they needed a center and Wells was too old by their standards and too expensive, especially given contracts that are due for renewal soon:
2013 UFAs:
Greg Jennings - Currently averages 6.75M/year, projects $10-12M if extended
TJ Lang - Currently $1.3M, projects $4-5M/year if extended.
2014 UFAs:
Ryan Pickett - Currently $5.4M
Nick Collins - Currently glad to not be paralyzed, $4.3M
BJ Raji - Currently $4M
James Jones - Currently $3M
Jermichael Finley - Currently $7M
Clay Matthews - Currently $2M
2015 UFAs:
Aaron Rodgers - Currently the 8th highest paid QB in the league
That's basically the team's core, and all of those players not named Pickett are only in their mid to late 20s. I'm not saying they'll all be re-signed, but they're all worth a look to extend long-term.
But back to Jeff Saturday. Wells (31) signed for $24M/4 years, Saturday (36) signed for $7.75M/2 years. If they hadn't replaced Wells with a free agent, they'd have netted likely another 4th RD compensatory pick -- they received one each for Colledge and Jenkins' departure last year, both signing very similar deals to Wells' -- and would rely on Evan Dietrich-Smith or a draft pick to fill Wells' place. In signing Saturday, they'll probably just get a 7th RD (if anything) compensatory pick for Wells, given the discrepancy between their contracts.
What Thompson is trying to avoid in signing Saturday is having to rely on the draft to fill their obvious need at center. Below is an image of Todd McShay's breakdown of where players at each position are projected to be drafted by round.
click to enlarge
That's 1 center projected to be drafted in the first 3 rounds. By signing Saturday, they no longer have to risk spending their one first round pick on the only center worth drafting on the first two days of the draft and can spend one of their 9 picks between rounds 4 and 7 to select and develop their next center under Saturday. Hell, they can even draft two if they really want.
There has also been plenty of talk about several defensive linemen that have met with the Packers and how those meetings/signings might affect their early round selections. Here's the depth chart on the d-line:
BJ Raji
Ryan Pickett
Mike Neal
CJ Wilson
Jarius Wynn
Mike Neal
Lawrence Guy (remember him?)
Howie Green is a UFA this year. Raji and Pickett played 80%+ of last year's snaps, mainly in the 2-4-5 defense. Neal is suspended for 4 games because of steroids and is probably in the process of injuring himself as I write this post. Also, who expects him to be better at football (and staying healthy) when he starts pissing clean again?
Jaruis Wynn is entering his 4th year as a pro and Wilson his 3rd. Both were 6th and 7th round picks, respectively. Lawrence Guy was a 7th round pick last year they immediately placed on IR after sustaining a concussion to free up roster space. Wynn and Wilson are simply running out of opportunities, and later in this post, you'll see how many similar draft picks the Packers have this year to replace them.
With Raji and Pickett under contract for two more years each and taking into consideration their backups' incredibly underwhelming performance to date, it's no wonder Ted signed DL Daniel Muir and is talking to Anthony Hargrove, Manny Lawson and Dave Tollefson. The cupboard is soon to be bare at DL. Opposite Matthews, we know it's not much better at OLB. Looking at how defenders at each position project by draft round:
click to enlarge
we see 7 projected DEs, 4 DTs, 4 CBs and 1 SS in the first round. That's half the projected first round draft picks playing positions of need for the Packers. Knowing that, I'd expect Ted to round out his depth chart with another minimal free agent signing or two and then take advantage of having the luxury to select the best defensive player on the board that falls to him at pick #28.
After that? He has 11 more draft picks to select more players or trade up. Below is a list of the Packers' 2012 draft picks by round, overall pick and
draft value
assigned to that pick. Bolded ones are compensatory picks they are unable to trade.
Two untradeable 7ths, in addition to two more 7ths, means Ted's not terribly likely to trade down to grab guys he'd otherwise sign as undrafted FAs. Remember, he's filling depth on a team that went 15-1 last year. At some point, he has to be looking for quality, not quantity. Two back-to-back, untradeable 4ths makes the tradeable 4th round selection simply nine picks before those seem much more liquid. It's also important to note only 7 teams have double-digit draft pick totals this year, and only the Browns (13) have more draft picks than the Packers' (12).
So what does this all mean? Welp, Ted's left you more than enough quotes in the past few days to figure out how he'll approach this year's draft:
1.) "It's an opportunity," GM Ted Thompson said. "It's incumbent on us to do a good job with the extra picks. It's another opportunity."
2.) "We lost a number of free agents last year," Thompson said. "It's one of the byproducts of it. It's not the end-all to-be-all, but it's nice to have extra picks."
3.) Asked if the added picks gave him more flexibility, Thompson said, "More is always better."
4.) … Sometimes the market runs away from you, and you keep your hands in your pocket."
5.) I do think in free agency you're able to target more specific things as opposed to the draft, when we try to take the best player."
6.) Yes, Thompson admitted that he wasn't at Lambeau Field when Saturday arrived last week for his recruiting visit. He was at Iowa's pro day instead. He called Saturday to make sure there would be no hard feelings about his absence
That's just Ted being Ted, if you ask me. I think it's safe to say they won't select a TE/WR/ILB in the first three rounds, but everything else figures to be business as usual for Count Ted Draftula one month from today.
Labels: 2012 Draft, 2012 Packers, Count Ted Draftula